The inherent value of a Sierra Pacific window and door package is accentuated as our experienced window professionals offer guidance throughout each project. Sales representatives and architectural specialists work closely with the builder and architect to assure that our windows enhance the beauty of each residential or commercial application.
With features including one of the thickest extruded aluminum cladding systems on the market, a wide range of clad colors and hardware choices, and standard offerings in Ponderosa Pine or Douglas Fir, Sierra Pacific Windows are a welcome addition to any project.
Extraordinary quality, strategic West Coast and Midwest manufacturing locations, and commitments to on-time delivery and exceptional customer service highlight the value of Sierra Pacific Windows.
For information on Sierra Pacific Windows, visit our website.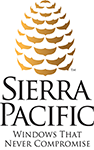 Sierra Pacific Windows
1-800-824-7744