Fencing
Cedar & Whitewood Fencing
Sierra Pacific has two California sawmills producing fencing at Oroville and Chinese Camp, centrally located to receive high grade, second-growth logs from Sierra Pacific forest lands and other local sources. Cedar logs are processed at the fence plants to yield the following grades: 1) "El Dorado", the highest grade of incense cedar fencing is graded from both faces for a tight knot, cull-free board where appearances from both faces are very important in the end use, and 2) "Placer" boards are graded for the same criteria, based on the best face. Placer boards are generally used in applications where appearance from only one face is needed. Minor defects may be present on the reverse face of these fence boards, however the overall serviceability will remain. Sierra Pacific also offers white-wood fencing as a popular choice for customers wanting an eye-appealing product that installs quickly. Graded as "Sierra Supreme", our pre-stained whitewood boards come in three choices of color: Cedar tone, Gold tone and our most popular Redwood tone.
Installation Suggestions for Your Cedar Fence (1 page - 443KB)

Choose a fencing that's right for your job!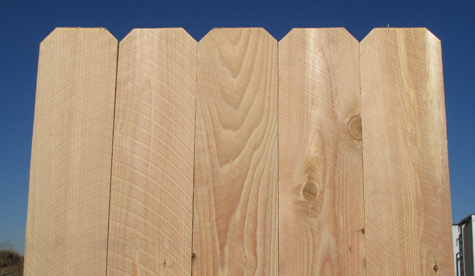 Dog Ear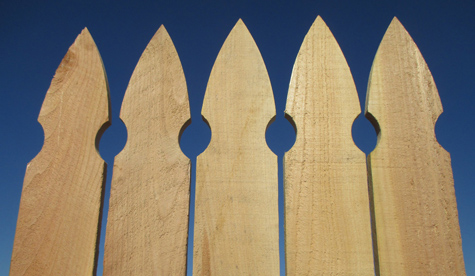 French Gothic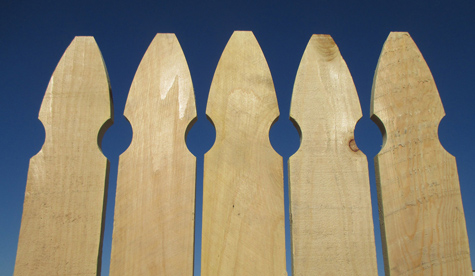 French Gothic Blunt Point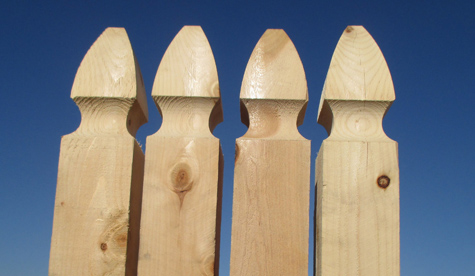 French Gothic Post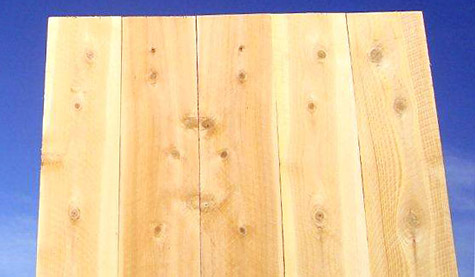 Square Top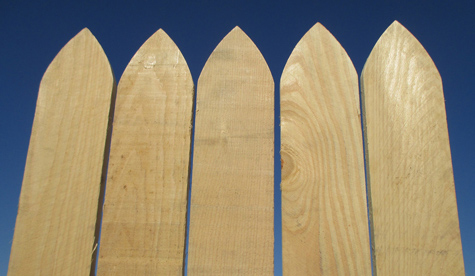 Stockade
Incense Cedar Fencing sizes & finishes
| Size | Grade | Lengths | Virtual Tour |
| --- | --- | --- | --- |
| 1x4 (nominal) | El Dorado | 4', 5', 6', 7' & 8' | |
| 1x4 (nominal) | Placer | 4', 5', 6', 7' & 8' | |
| 1x4 (nominal) | Rustic | 4', 5', 6', 7' & 8' | |
| 1x6 (nominal) | El Dorado | 4', 5', 6', 7' & 8' | 1x6 Dog Eared Rough El Dorado |
| 1x6 (nominal) | Placer | 4', 5', 6', 7' & 8' | 1x6 Dog Eared Rough Placer |
| 1x6 (nominal) | Rustic | 6' | |
| 1x8 (nominal) | El Dorado | 4', 5', 6', 7', & 8' | |
| 1x8 (nominal) | Placer | 4', 5', 6', 7', & 8' | |
| 1x8 (nominal) | Rustic | 6' | |
| 1x12 (nominal) | El Dorado | 5', 6' & 8' | |
| 1x12 (nominal) | Placer | 5', 6' & 8' | |
| 2x4 (1 1/2"x3 1/2") | Lassen | 8' | |
| 4x4 (3 1/2"x3 1/2") | Lassen | 8' | |
Whitewood Fencing sizes & finishes
Grading:
El Dorado is #1 - 2 Face Fencing
Placer is #2 - No Hole Fencing
Lassen is a tight knot post and rail
Sierra Supreme is #2&BTR – No Hole Fencing
All boards, posts, and rails are unseasoned, rough sawn
Shipping:
UPRR and VNRR Boxcars, A-frames, Vans, and Trucks from Oroville and Chinese Camp
Value Added:
All products are treated with an anti-sap stain